Nickel Based Brazing Alloys
New Nickel Products
We can supply nickel brazes in novel new forms such as flexible rope and solid wire.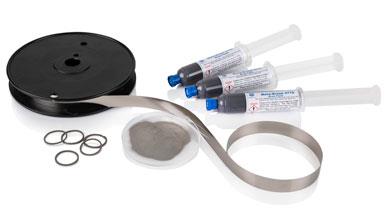 Product Uses and Applications
Nickel brazing products are used extensively in aerospace, automotive and nuclear industries. In these applications they would typically be used to join stainless steel and high temperature superalloys. VBC Group manufactures aerospace grade nickel braze paste and stocks many grades of nickel braze powder for these industries. In addition, VBC Group can supply nickel braze foil and preformed shapes.
Key Products
Ni
Cr
Fe
B
Si
P
C
W
Melting Range °C
AMS
AWS A5.8
ISO 17672:2016
Key Points
Meta-Braze

™

4775
Bal
14
4.5
3.1
4.5
-
0.7
-
980-1060
4775
BNi-1
Ni 600
Meta-Braze

™

4776
Bal
13
4.5
2.7
4.5
-
-
-
950-1127
-
-
-
Meta-Braze

™

4776M
Bal
14
4.5
3.1
4.5
-
-
-
980-1070
4776
BNi-1a
Ni 610
Meta-Braze

™

4777
Bal
7
3.0
3.1
4.5
-
-
-
970-1000
4777
BNi-2
Ni 620
Meta-Braze

™

4778
Bal
-
0.5
3.1
4.5
-
-
-
980-1040
4778
BNi-3
Ni 630
Meta-Braze

™

4779
Bal
-
1.5
1.8
3.5
-
-
-
980-1070
4779
BNi-4
Ni 631
Meta-Braze

™

4782
Bal
19
-
-
10.1
-
-
-
1080-1135
4782
BNi-5
Ni 650
Meta-Braze

™

4310
Bal
-
-
-
-
11
-
-
875
-
BNi-6
Ni 700
Meta-Braze

™

4770
Bal
14
-
-
-
10.1
-
-
890
-
BNi-7
Ni 710
Meta-Braze

™

4795
Bal
15
-
3.5
-
-
<0.06
-
1055
-
BNi-9
Ni 612
Meta-Braze

™

4720
Bal
11.5
3.5
2.5
3.5
0.01
0.48
16
970-1105
-
BNi-10
Ni 670
Meta-Braze

™

BNi-11
Bal
10
3.5
2.5
3.5
-
0.4
12
970-1095
-
BNi-11
Ni 671
Meta-Braze

™

BNi-12
Bal
25
-
-
-
10
0.03
-
880-950
-
BNi-12
Ni 720
Meta-Braze

™

BNi-14
Bal
22
-
-
6.5
4.5
-
-
943-1071
-
BNi-14
Ni 655
Meta-Braze

™

BNi-15
Bal
30
-
-
4
6
-
-
985-1010
-
BNi-15
-
Meta-Braze

™

BNi-16
Bal
29
-
-
6.5
6
-
-
990-1105
-
BNi-16
-
Meta-Braze

™

BCo-1
17
19
-
0.8
8
-
0.4
4
1108-1150
-
BCo-1
-