Meta-Braze Advanced™ flux containing brazing products are a new form of product in which the flux is contained within the brazing alloy. There are several of ways in which this is done and VBC Group can advise on the best for a particular application.
The flux can be held in a central core or groove of a wire or strip or, in the case of aluminium brazing alloy, flux can be impregnated into the alloy structure. VBC Group brazing specialists can advise on the optimum product for a particular brazed joint.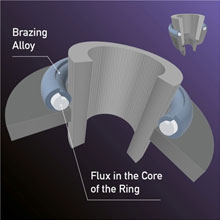 Meta-Braze Advanced™ Flux Cored Brazing Alloy
This form of flux cored product has proven to be reliable in a number of brazing applications.
The flux melts from the central core of the product coming out through the seam in the ring before the alloy itself melts.
Careful assessment of the amount of alloy needs to be made during the initial testing procedure. This product is available in both silver and aluminium brazing alloys.
This product is available in both silver and aluminium brazing alloys.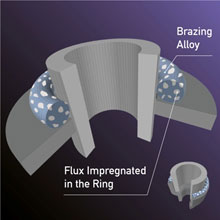 Meta-Braze Advanced™ Flux Impregnated Brazing Alloy
This This form of flux cored is only available as an aluminium brazing alloy and flux combination. The flux is impregnated in the alloy and melts out of it as the brazing temperature is reached.
This type of product is best suited for induction heating as opposed to flame brazing where there is a potential of flux exhaustion.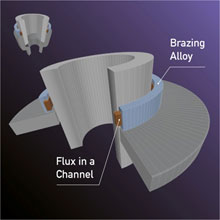 Meta-Braze Advanced™ Flux Containing Brazing Alloy
This highly effective form of flux cored product allows the flux to melt from the core of the braze alloy ring using the heat from the components. If placed correctly the flux will penetrate the joint under capilliary action and the alloy will follow it shortly afterwards.
It is sometimes necessary to use a spiral with 1 ½ or 2 turns to get sufficient alloy into the ring when replacing a solid ring.

Which product is right for a particular application will depend on a number of factors such as the parent metals, the brazing alloy, the amount of flux needed, the heating method and the size and geometry of the components being made and how they relate to the joint itself. VBC Group are able to advise on what the best option will be in each case.
In each case Meta-Braze Advanced™ flux containing brazing products can offer manufacturers some distinc advantages:
Improvements in the quality of brazed joints
Improved productivity and repeatability
Reducing flux residues
Less contact with flux chemicals by operators
For more information complete the form on Contact Us above